We travel nearly every weekend and I feel like there's very little blog-worthy events to write about.  However, the events on Sunday night, March 6 in Timbo (Leslie), Arkansas were a first for us.  We sang at the First Assembly of God of Timbo, which is 2 hours north of Little Rock at the southern end of the Ozarks.  The temperature reached a very humid 82 degrees.  Bobby and I were not aware of threatening weather but right before the service started several alarms went off on phones alerting people of severe weather. Around 6:15 a gentleman rose from his seat and quickly hurried to the exit.  He returned a minute later and whispered to the pastor who stopped the service when we'd finished a song. He told us there was a tornado warning and that there was a twister near Clinton, Arkansas which was 45 minutes southwest of where we were. We prayed, speaking to the storm, and continued singing.  About 10 minutes later the same gentleman hurried to the exit again and returned quickly to speak to the pastor.  They stopped the service again and updated us by saying the tornado was headed on a path between Timbo and Mountain View, which was where our hotel was, 30 minutes away.  The pastor strongly suggested that no one leave but insisted we were safest right where we were and I completely agreed with that.  However, when he suggested that if we needed to, we could take shelter under pews (which were bolted down) in the 400-seat sanctuary or in the baptistry, I disagreed, especially when it came to Grace's safety.  I laid my mic on the altar and took Grace out of the sanctuary to a Sunday school room.  Mark, the song/worship leader, followed me out and asked me if I'd like to take Grace to an adjacent room that had a closet under a stairwell.  Indeed, I would!  We wheeled Grace into the next room and I backed her into a closet.  He ran across the hall and grabbed a couple of comforters from the nursery and I asked him to grab the mattress in the crib.  As I was on my way back to Grace I asked another gentleman to get Grace and I a bottle of water.  At that point all was still quiet so Mark told me he'd stay with Grace if I wanted to return to the sanctuary.  I picked up my mic just as Bobby was about to get to the first chorus of "Land of the Free", and we finished the song as a trio.  The service was interrupted a third and final time, this time because the sheriff had stopped by to urge us to take cover.  The lights had already flickered a couple of times but immediately after stopping the service the last time, the lights went out.  We all made our way to our safety spots of choice, Justis following me.  Faith wasn't far behind and we talked in the closet as we waited for the storm to pass.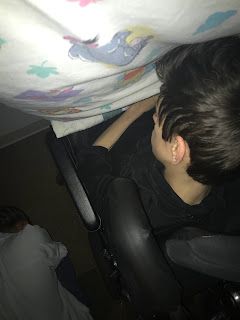 At no point was I afraid.  There were no raised voices except for some women singing as they waited for the storm.  All was reasonably calm - even the storm.  Yet Justis told me later that he had been shaking and that he had prayed quietly, asking God to forgive him of any and all sin. He took it all pretty seriously and wanted to be sure that if something happened to him there'd be no doubt he'd go to Jesus. 

                                                                  

 
After the storm there were no lights, but there were sales!  People still came to the merchandise table while phone lights were held up.  And there was still food!  With a little light ahead of us we made our way to the fellowship hall and filled our bellies, eating and talking in the very dimly lit room. Everyone was satisfied except Grace.  There was no power to purée her food and so I prepared a to-go box and, fortunately, the electricity never went out in Mountain View.  We had lights and Grace had her puréed food in the hotel. (There had been a tree down on the way to our hotel but it was cleared by the time we left the church.) 
There are many times that God spares us from accidents on the highway by delays in our schedule.  We've seen that happen many times and we often contemplate and question how often we are spared from things that we aren't even aware of. God has been very protective over the last 14 years, that's for certain.  Last Sunday night was an obvious reminder of His protection and care for us.
So on March 6, the concert was interrupted by a tornado and the following Sunday our service in Kentucky was canceled because of a snow storm.  It's ok!  We are happy to be together at home, safe and warm!